Talent Show Talent Test
August 5 @ 6:30 pm

-

8:00 pm

$8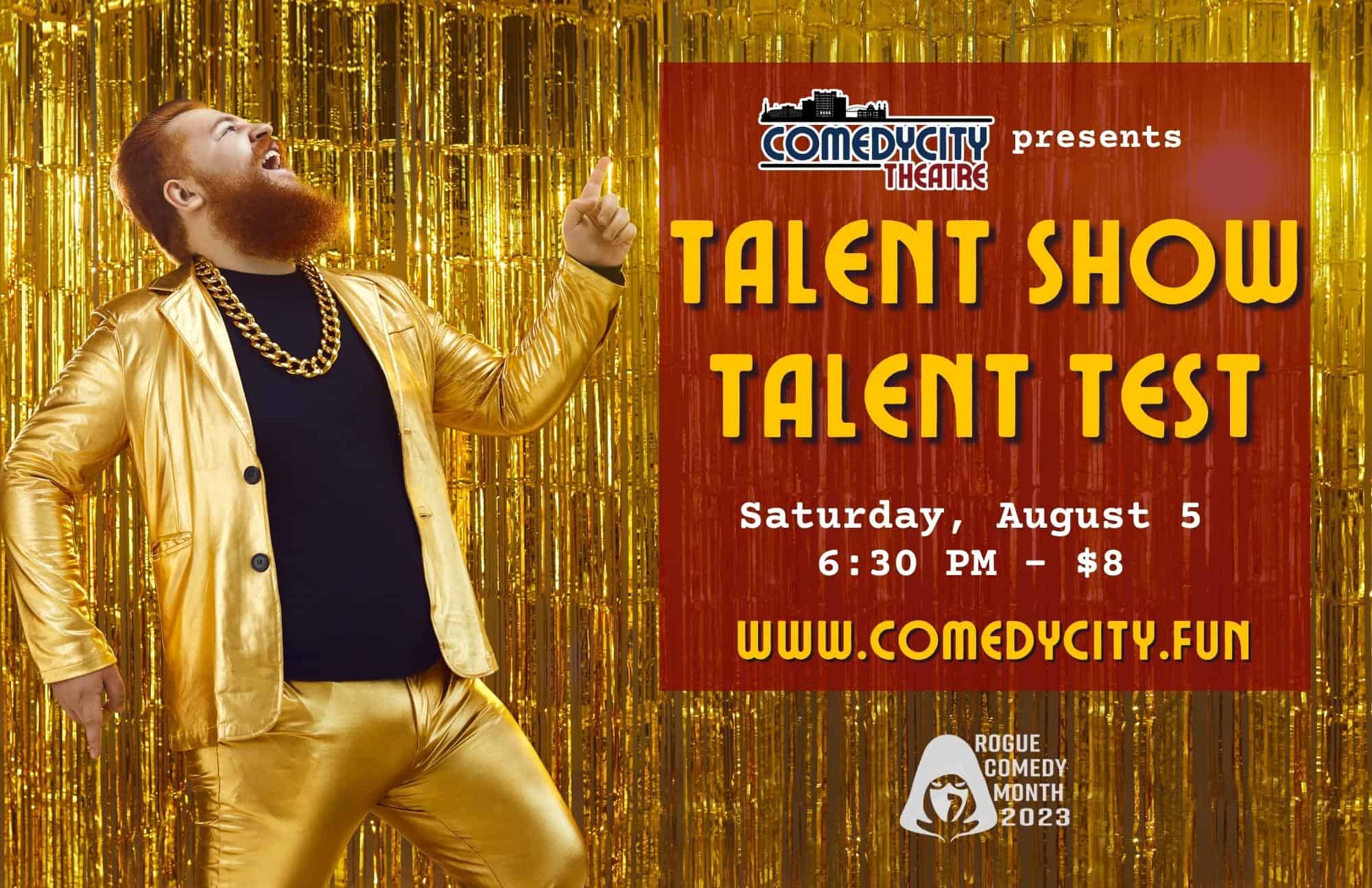 Talent Show Talent Test: ComedyCity's Unforgettable Rogue Comedy Month Experience!
Welcome, comedy enthusiasts, to a night filled with laughter, wonder, and jaw-dropping talent! ComedyCity Theatre proudly presents "Talent Show Talent Test," an extraordinary event that promises to push the boundaries of a traditional talent show. Join us on Saturday, August 5 at 6:30 PM for an unforgettable experience as part of ComedyCity's esteemed Rogue Comedy Month. Prepare to be amazed, entertained, and thoroughly entertained!
Unveiling the Show:
"Talent Show Talent Test" is not your ordinary talent show; it's a wacky and unpredictable journey into the world of unique talents and hilarious twists. Our talented group of contestants will grace the stage to showcase their extraordinary skills in front of a live audience, leaving everyone in awe.
But wait, the fun doesn't stop there! After their initial jaw-dropping performances, each contestant will face an exhilarating challenge with loaded circumstances. They might find themselves taking on the talents of another performer, bringing their own twist to it. Alternatively, they may have to demonstrate a completely random talent that hasn't been seen during the evening, adding an element of surprise and excitement.
Expect the unexpected, as our talented performers will face added modifiers and hilarious obstacles while showcasing their original talents. The spirit of improvisation will be in full swing, ensuring that "anything goes" during this uproarious talent extravaganza!
Experience Rogue Comedy Month:
"Talent Show Talent Test" is one of the highlight events of ComedyCity's much-celebrated Rogue Comedy Month. This special month brings together the best of improvisational brilliance, inventive comedy, and daring performances. If you're a fan of side-splitting laughter and offbeat entertainment, this show is a must-attend event!
Secure Your Tickets Now:
Don't miss your chance to witness the unparalleled creativity and comedic genius of "Talent Show Talent Test." Reserve your seats now at www.comedycity.net/tickets and be a part of this uproarious evening that defies expectations and challenges convention.
Get ready for a night of wild talent, unexpected turns, and unbridled laughter at "Talent Show Talent Test," presented by ComedyCity Theatre as part of Rogue Comedy Month. Mark your calendars for Saturday, August 5 at 6:30 PM, and join us for an unforgettable experience that will leave you applauding and laughing until your cheeks ache.
As our contestants take on the stage and tackle their talent tests with courage and humor, you'll be part of an audience that revels in the joy of spontaneity and the magic of unexpected performances. Secure your tickets now and be a part of the merriment at ComedyCity Theatre. Get ready for an evening of talent, test, and tremendous fun!
Related Events