Comedic Neutral: An Improvised Dungeons & Dragons Campaign
August 19 @ 6:30 pm

-

8:00 pm

$8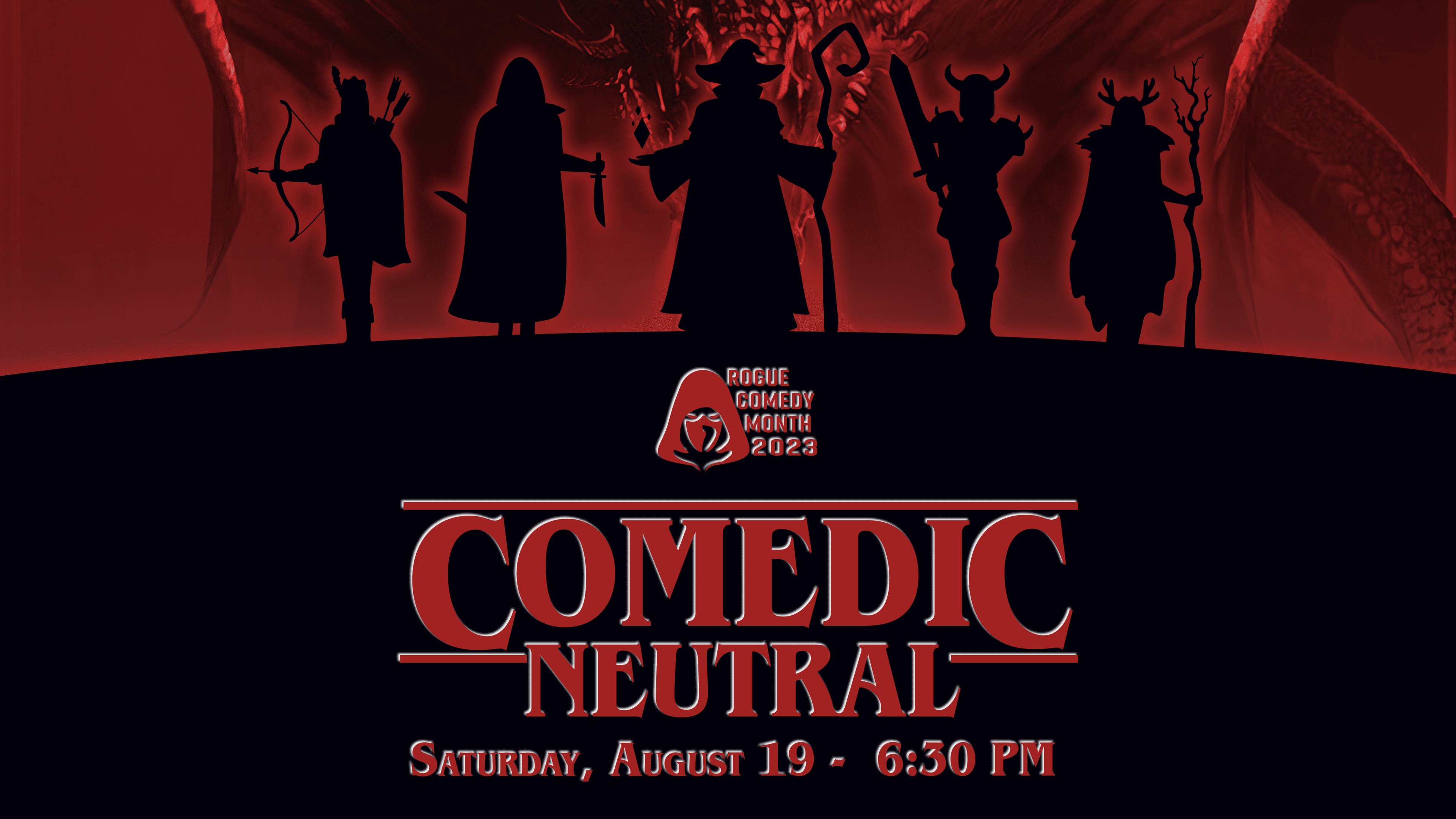 Unleash Your Imagination: Join the Adventure at "Comedic Neutral" – An Improvised Dungeons & Dragons Campaign!
Prepare to embark on an epic quest of laughter, fantasy, and boundless creativity at ComedyCity Theatre's "Comedic Neutral: An Improvised Dungeons & Dragons Campaign." Join us on Saturday, August 19th at 6:30 PM for an enchanting experience that will transport you to a world of magic, heroes, and unforgettable hijinks. As part of ComedyCity's esteemed Rogue Comedy Month, this event is perfect for all ages and promises to be a night of laughter and fantasy like no other.
The Adventure Begins:
"Comedic Neutral" unveils a unique blend of improv comedy and the iconic role-playing game, Dungeons & Dragons. Our talented improvisers will take on the roles of brave heroes in a fantastical world, guided by the Dungeon Master, Conrad. With your help, the audience will actively participate in shaping the unfolding adventure, making every moment truly interactive and full of surprises.
Fantasy Unleashed:
The stage becomes the gateway to an enchanting realm, where the story unfolds before your very eyes. Each decision and dice roll could lead our heroes to victory or unexpected hilarity. As they journey through a land of mythical creatures, treacherous dungeons, and magical wonders, "Comedic Neutral" promises to keep you on the edge of your seat.
Unbelievable Hijinks:
Prepare to be amazed as our players use their quick wit and imagination to navigate through unexpected challenges. Every twist and turn will be met with uproarious laughter, thanks to the comedic genius of our improvisers. From epic battles to whimsical encounters, the fate of our heroes lies in the hands of fate – and the roll of the dice!
Tickets & Venue:
Join the adventure at ComedyCity Theatre, the heart of laughter and creativity in the greater Green Bay area. Reserve your seats for "Comedic Neutral: An Improvised Dungeons & Dragons Campaign" now and secure your place in this unforgettable fantasy experience. Tickets are available at www.comedycity.net/tickets so gather your friends and family for a night of magical fun for all ages.
Step into a world of imagination and laughter at "Comedic Neutral: An Improvised Dungeons & Dragons Campaign," presented by ComedyCity Theatre. On Saturday, August 19th at 6:30 PM, get ready for an interactive adventure where fantasy and comedy unite to create an unforgettable experience. Witness our talented improvisers weave a tale of heroism and hilarity, all shaped by your suggestions and the roll of the dice.
Whether you're a seasoned fan of Dungeons & Dragons or new to the world of improv, this show guarantees an evening of mirth and magic that will delight audiences of all ages. Don't miss your chance to be part of Rogue Comedy Month's most enchanting event. Secure your tickets now and let the adventure begin!
Related Events