Duos: A Rogue Comedy Month Show
August 25 @ 7:30 pm

-

9:00 pm

$8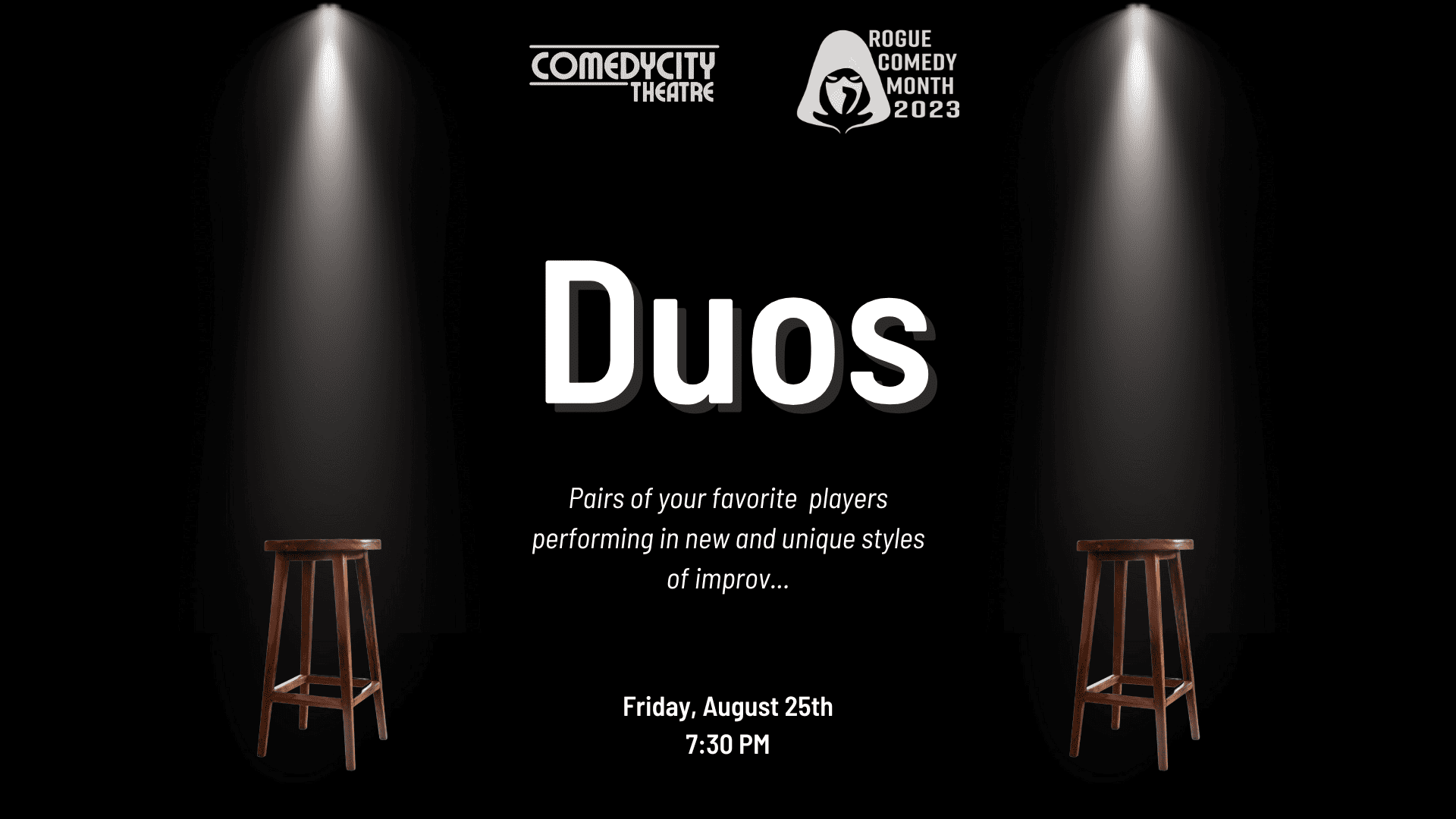 Experience the Dynamic Chemistry of "Duos" at ComedyCity's Rogue Comedy Month
Welcome to ComedyCity's Rogue Comedy Month, a celebration of improvisational comedy that pushes the boundaries of laughter and creativity. Join us on Friday, August 25th at 7:30 PM for an unforgettable evening of comedic brilliance with our long-awaited show, "Duos." Get ready to witness the power of partnerships as talented performers from ComedyCity Improv take the stage for an extraordinary display of long-form improv.
Dynamic Duos:
"Duos" is a unique improv comedy show that showcases the artistry and chemistry of several pairs of performers. These seasoned improvisers bring their diverse backgrounds and styles to create an exceptional performance that will leave you in stitches. Each duo will mesmerize the audience with their quick wit, seamless collaboration, and boundless creativity, bringing to life a variety of improvised scenes, stories, and characters.
Rogue Comedy Month:
As part of ComedyCity's Rogue Comedy Month, "Duos" exemplifies the spirit of innovation and unpredictability that defines this exciting event. Rogue Comedy Month celebrates the audacious and adventurous nature of comedy, where performers embrace risk-taking and explore uncharted comedic territories. "Duos" captures the essence of this month-long celebration, delivering a one-of-a-kind experience that will keep you engaged, entertained, and thoroughly amused.
Ticket Information:
Don't miss your chance to be a part of this extraordinary night of laughter and spontaneity. Tickets for "Duos" are available for just $8, offering incredible value for an evening filled with laughter and top-notch entertainment. To secure your spot, visit www.comedycity.net/tickets and purchase your tickets today. Hurry, as seats are limited and this show is bound to sell out quickly!
Immersive Long-Form Improv:
During "Duos," you will witness the brilliance of long-form improv, a style of improvisation that delves deep into characters, narratives, and relationships. Each pair of performers will captivate you with their ability to create rich and engaging stories on the spot, building upon each other's ideas and creating moments of hilarity that can only be experienced in the moment. Prepare to be amazed as the performers seamlessly navigate through different improv forms, delivering an unforgettable performance that will keep you laughing long after the show is over.
Conclusion:
Mark your calendars for Friday, August 25th, at 7:30 PM, and get ready to be blown away by the comedic prowess of the talented performers in "Duos" at ComedyCity's Rogue Comedy Month. With an evening filled with laughter, creativity, and unexpected surprises, this show promises an immersive experience like no other. Secure your tickets today at www.comedycity.fun and embark on an unforgettable comedic journey that will leave you wanting more. Don't miss out on this incredible opportunity to witness the magic of improvisational comedy at its finest!
Related Events